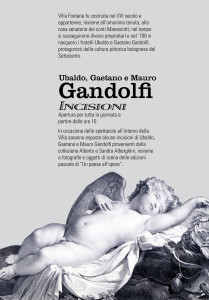 To celebrate the Gandolfi and the beautiful eighteenth century mansion where they were born, Villa Fontana, on 2012 the Municipality of San Giovanni in Persiceto, in collaboration with the Association Settimadiminuita and collection Alberghini, have organized the exhibition "Gandolfi, a story to be discovered ". The concert curated by the association Settimadiminuita has seen the presence of Cristiano Scilla, soprano, Maurizio Leoni bariton, the pianist Morena Malaguti and the dancer Sabrina Lucido.
Ubaldo and Gaetano Gandolfi , eminent painters of the '700, were the children of Ranuzzi the factor Villa Fontana.
Ubaldo Gandolfi (San Matteo della Decima 1728 – Ravenna 1781) received his masters (Graziani, Celli, Toselli) pictorial training according to the principles of the Clementina Academy of Bologna. He lived, like his brother Gaetano, a year in Venice and his paintings suffered as a result, the influence of the Venetian painters (Piazzetta, Tiepolo).
Gaetano Gandolfi (San Matteo della Decima 1732 – Bologna 1802) as Ubaldo, attended the Clementina Academy of Bologna, but he was also deeply influenced by his brother. In 1760 he spent a year in Venice, where he studied the works of Tiepolo and other Venetian painters. He also traveled to England but returned to Bologna and realized frescoes and paintings in various churches and convents in Bologna. His fame, after the Venetian experience, increased so much that his paintings were requested by various cities in Italy.
Mauro Gandolfi (Bologna, 1764-1834), son and pupil of Gaetano, soon showed a markedly rebellious character. He left his family for France when he was just sixteen. He came to Bologna in 1785 and began to attend the Clementine , honing the technical knowledge started by his father. He brought numerous awards and was named "Professor of figure" from 1794 to 1797. Meanwhile he helped his father, established painter and burdened by commission, working in his studio.
Moreover he was active on its own as a painter, draftsman, engraver and miniaturist, passions cultivated during the French stay.
GALLERY